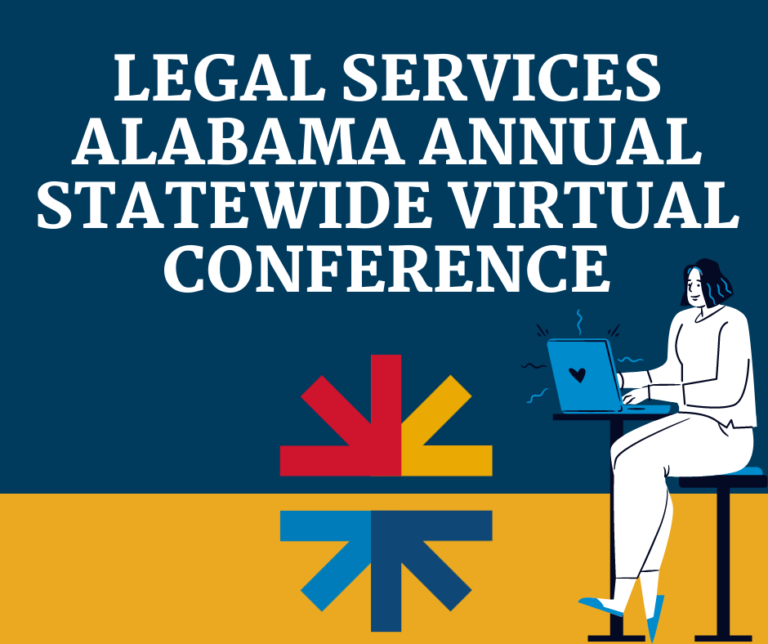 October 6 – 7, 2020 Legal Services Alabama hosted our annual state-wide conference. While the event is traditionally held in person, LSA pivoted our plans to be pandemic-friendly and made the switch to an entirely virtual event! The state-wide conference is a time to bring our staff together for strategic sessions, professional development and personal updates. LSA has eight offices servicing all 67 counties of Alabama. Events like the annual conference bring our staff together as a team and keep us united despite our distance. This year, the need to social distance was met, but it did not hold us back.
October 6
On Tuesday the conference kicked off with a welcome and introduction from LSA Executive Director, Guy Lescault, and our keynote presentation from Ron Flagg, Legal Services Corporation (LSC) President.
Staff attorneys then attended a CLE ethics session with Circuit Judge for the Sixth Judicial Circuit, Judge England. Judge England discussed courtroom etiquette and preparation advice on how best to serve clients.
Support staff joined a presentation and Q&A with Gwendolyn Kennedy, Esq titled Changing in the Midst of Crisis: Support on the Front Line. Kennedy spoke about and answered staff questions around navigating COVID-19 while supporting clients facing hardship.
Staff then came together to celebrate our staff awards!
The whole staff then attended the session Characteristics of a Successful Organization where Nicole Pinkham taught everyone about the different working styles typically present in every team. She guided staff in identifying these work "voices" and how they support each other in successful teamwork.
The afternoon ended with attorneys listening to Keeping Cool in the Fray from Dr. Sara Jacobs while support staff joined Nikole Nelson, Esq for Our Finest Work Yet: Advocating for a Just Future.
October 7
Wednesday began with an all-staff mental health check in called Maintaining Mental Health Through Uncertain Times: How are you doing? led by Eliza M. Belle, MS, PhD, CFE. Dr. Belle provided staff with a timely session about checking in on ourselves and with others during these unprecedented times.
Our IT team then gave an interactive presentation to demonstrate upcoming tech updates happening at LSA. They trained staff on new security measures and programs that will keep the organization operating at capacity while working from home.
The last session of the day was Diversity & Inclusion with Cathy Harris. She discussed equity in the workplace and offered personal examples of ways we can confront our biases. The day then ended with closing remarks from Lescault.
Justice, Fairness & Hope Awards
Another highlight from the two days of sessions was our first Virtual Justice, Fairness & Hope Awards Reception. Staff, partners and friends gathered virtually to celebrate our recipients and honor the late Congressman John Lewis. Below are images of our recipients, with quotes from their acceptance speeches.
Alternative image text included.