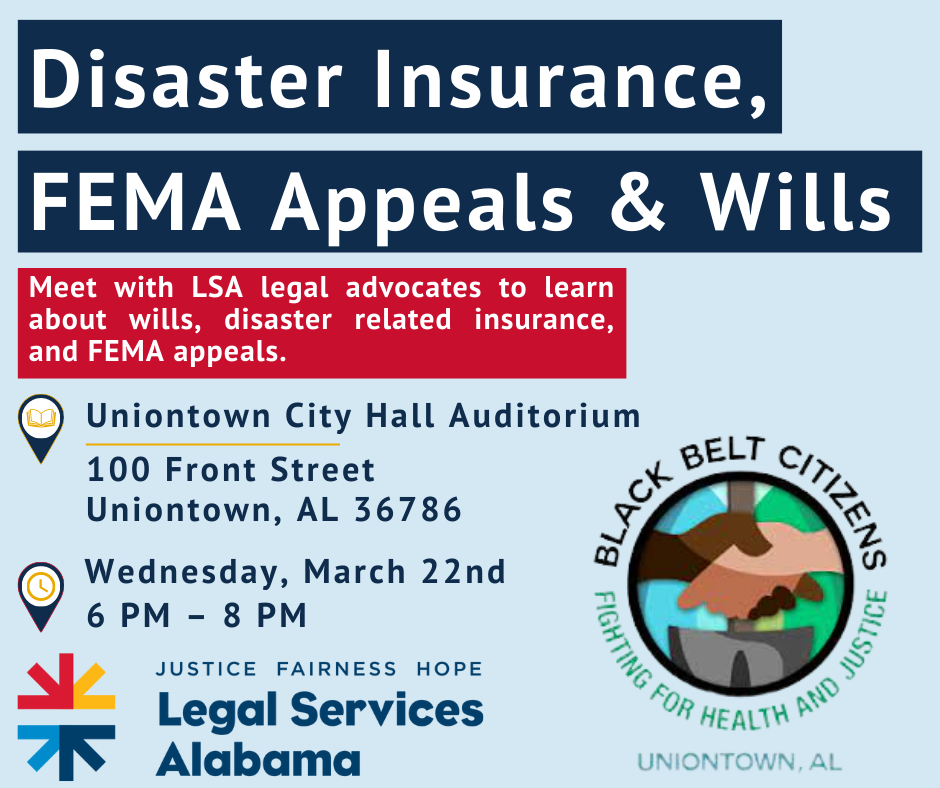 Legal Services Alabama (LSA) is continuing disaster relief services in the Black Belt with a new clinic offering advice, support and direct services on will preparation, disaster-related insurance and appealing denied FEMA applications.
The clinic is supported by the Black Belt Citizens Fighting for Health and Justice and is scheduled to take place in-person from 6 p.m. – 8 p.m. on Wednesday, March 22 at the Uniontown City Hall Auditorium.
With nine out of the 10 poorest counties in Alabama existing in the Black Belt region, targeted disaster relief efforts are essential to rebuilding the communities damaged in the severe storms and tornados of January 12.
FEMA requires documented proof of homeownership in their assistance applications. When homes are destroyed it is common for disaster victims to lose these important documents to storm damage. Missing documents are one of the most common reasons applications are denied, leaving victims discouraged about the process of receiving financial assistance. LSA can help eligible clients with the appeals process and providing proof of homeownership when these documents have been destroyed.
Heirs property is also a frequent issue across the Black Belt, contributing to high volumes of community blight. Having a will in place in the event of a deadly disaster is essential to keeping land and property owned by family members rather than turned over to the state.
People with low-incomes struggling to recover from recent storm damage can attend the clinic to meet with an LSA attorney to learn more about these processes, as well as important information regarding disaster-related insurance policies.
No registration is required to attend, and all LSA services are free-of-charge to eligible clients.